Valentine's Day
February 14th celebrates the feast of St. Valentine. It began as a feast day for early Christians, and by the 15th century it evolved into an occasion to express love. Valentine's Day today is the second most celebrated holiday around the world. Symbols related to Valentine's Day include hearts, cards, flowers, candies, cupid, and doves.
Within the education setting, holiday themes such as Valentine's Day can be used to help motivate young learners in specific learning activities. Here are some Valentine's Day activities for early childhood or students with special needs.
Alphabet and Reading
Look for Valentine-themed activities that teach alphabet knowledge and early reading skills
Match the Hearts: Place upper-case letters on one side of a heart and lower-case letters on the other side of the heart. Students can match the upper and lower case letters together. Or, play memory by finding pairs of Valentines hearts.
Valentine Word Matching: Match the picture with the best word
Valentine Word Wall: Create word wall words related to Valentine day. You may Include words related to symbols (heart, cupid), social skills (share, care, help, give), history (holiday, St. Valentine), or vocabulary (kindness, distribute, offer, valentine).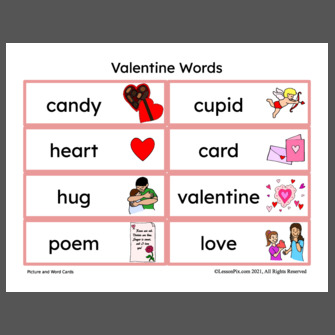 Phonemic Awareness and Decoding: Play with sight words and reading strategies.
StoryTime
Here are articles with many ready-to-print activities and ideas about stories of love and friendship.
The Old Lady Who Swallowed a Rose Story: Create learning games, sequence cards, and other activities based on this fun story.
I Love You Blue Kangaroo by Emma Chichester Clark
Nobody Hugs a Cactus by Carter Goodrich
Try a Little Kindness by Henry Cole
Books & Stories about Valentines
Valentine Writing
Share Valentines: Students sign their name on their valentines cards (and write a message if they'd like). Have students read their classmates names and sort into mailboxes.
Make a Greeting Card: Fold construction paper and decorate to make your own greeting card.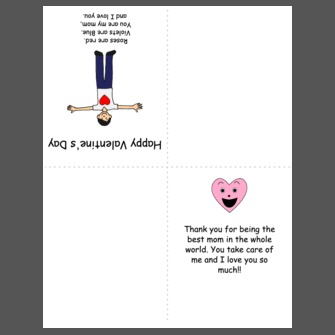 Writing Pages - Create writing pages with Valentines clip art. Add multiple pictures to help prompt ideas or sequence of their writing.
Semantic Map: Create a Semantic Map of Valentines Day ideas and display in the writing center. Students can use the ideas to write their own valentine themed story. Free Sample of a Valentine Semantic Map
Early Math and Science
Number Puzzles: Create Number Puzzle Cards using Valentine symbols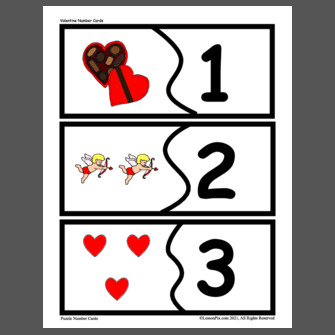 ​
Graphing Valentine Candies: Give each students a box of candy hearts and a heart graph page. Have the students sort their candies on the graph and count the number of each color of candy hearts. Compare student graphs and combine into a class graph. Free Sample Here
Sorting: Sort Heart Stickers on a sorting sheet: red, purple, pink, and yellow, or big, medium, and little.
Counting: Students can count the number of pictures on a card and place a clothespin on the corresponding number.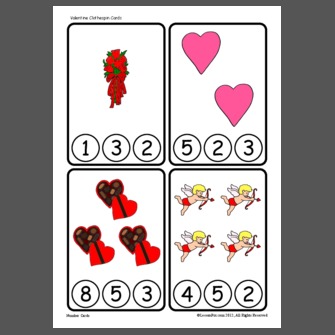 Calendar Cards: Make Valentine-themed cards in a pattern for classroom calendar math. (So easy to create with LessonPix - just pick your pictures and the wizard will make the pattern with dates- love it!!)
Valentine stamps: Stamp in the squares. Count or make patterns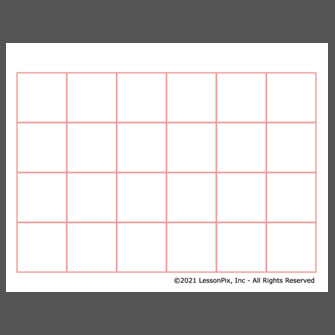 Motor and Sensory
Lacing Cards: Create lacing cards based on our feeling valentines hearts. As students lace, talk about the different feelings and possible causes. Free Sample of Heart Lacing Cards
Sensory Box: hide small heart buttons, heart rings, and jewels in a Valentine sensory box.
Coloring Sheets: Create Valentine Theme Coloring Sheets. Students can cut and glue tissue, ribbon, glitter, etc. on their coloring sheet for multi-sensory and three dimensional fun.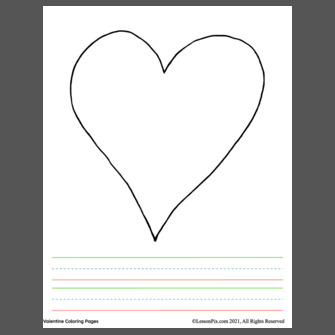 Cutting Shapes: Cutting pictures related to Valentines, photos of friends, or themed vocabulary.
Cooking: Follow directions and taste yummy valentine treats!
For more Valentines ideas, check out our Pinterest site, under spring ideas. (Yes, we know Valentines is in the winter, but it becomes lost in the snow and Christmas. It is almost in the spring... if the Groundhog says so!)
Have fun playing and learning together!