Stories and Activities for Teaching About US Veterans and Military
Many times as a teacher I have searched for good picture books about Veterans and the military. During the Great American Teach-In and in the Community Helpers Unit, I have had guest speakers talk about their job in the military. Veterans Day in November and Memorial Day in May honor the roles and sacrifice of Veterans for our country. Some years in my classroom, we create a banner for a student's parent or relative returning home from overseas.
Here are some books and activities to teach about the military and Veterans to young children. Keep in mind that many of the books are on YouTube ready to explore. (If you like the story, please support the author by buying the book.)
1. Introduce the different branches of the military.
Talk about each branch of the military and what they do.
2. Book: "Veterans In Our Neighborhood" by Valerie Phunderstein
This book introduces a student who learns that his neighborhood is filled with Veterans. He learns that the barber, butcher, firefighter, and nurse all served in different ways, and finds ways to thank them for their service.
Here are some activities to teach vocabulary and story comprehension.
3. Books "Hero Dad" and "Hero Mom" by Melinda Hardin
Superheores can "fly in to save the day", "use a cloak of invisibility", and drive a "super-powered car"; just like a parent in the military. "Hero Dad" and "Hero Mom" books compare the roles of military to superheroes. Along the way, the reader learns vaious equipment and roles in military service.
After reading either or both stories, make a list to compare same and different.
For younger students, you can ask them to draw or write about the parent in the story.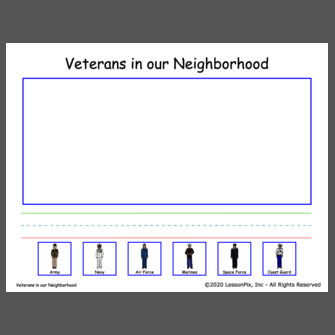 4. Alphabet Book, "H is for Honor" by Devin Scillian
This book walks through various military people, eqiupment, and ideas with each letter of the alphabet.
After reading this story, see if you can match the puzzle pieces with the correct beginning letter.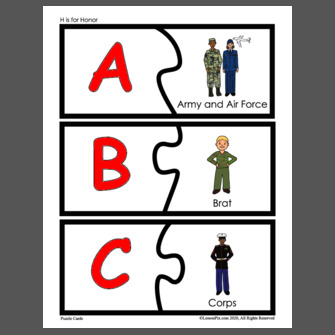 5. Make wristbands or hats to celebrate Veteran's Day.
6. Retelling Stories
Retell favorite stories using stick puppets of people from different branches of the military.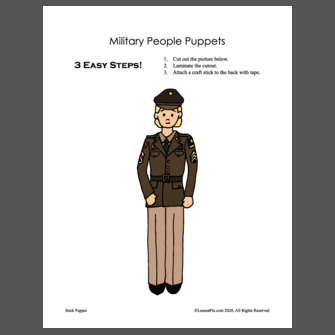 7. Writing Thank You
Students can write greeting cards or letters to say Thank you.
For young children, they can color or draw a thank you note.
8. Mail a Hug to a Veteran
Mail a Hug Card
Trace your student or child's hand and send as a hug.
Or Trace the child!
9. Semantic Maps
Brainstorm characteristics that describe a soldier or Veteran.
10. Book, "The Wall" by Eve Bunting
This beautiful book is more serious about those who lost loved ones serving in Vietnam. This is a Reading Rainbow Book and on YouTube.
11. Make a School "Wall of Heroes"
Families can write the name of a family member or friend who is currently serving or has served in the military.