Let's Grow Good Citizens with Election Ballots
Election Ballots are a great tool for teaching about elections and good citizenship. In voting activities, students learn....
How their vote counts,
Voting processes
To manage disappointments,
To recognize that others feel different about the same topic.
Some students may want to join the majority and others may want to stand apart from the crowd. Votes may be tabulated in role call or secret ballot. Any way you vote - voting is a duty and a priviledge.
LessonPix has Election Ballot templates to customize for your voting needs: What do you want for snack?, What is your favorite character in a story? or How should we carve our class pumpkin?
The Ballots come in 3 styles: "Red, White, and Blue", "Blue Stars" and "Plain" (black /white- save ink).
There are many ideas for using a ballot.
Use for mock elections in voting for president and teaching about a representative democracy.
Vote for favorite snack or treat (click image for free sample)
Vote for favorite activity earned for a fun Friday or as a reward.
Vote for a field trip or movie as a special event
Select choice for lunch (not as a ballot, but choice list)
Choose a center or preferred activity following the completion of a non-preferred activity.
Vote for how to carve a class pumpkin (click image for free sample)
So quick and easy to create your custom ballots. And... less time to make, more time to teach!
Enjoy!
Free Kids 2020 Election Ballot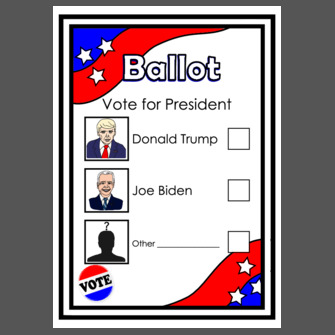 More election ballot ideas: