Puzzle Picture Cards
The puzzle picture cards has two pictures that match together in a puzzle connection. When selecting pictures into the tray (or organizing the order in the wizard), make sure that the pictures you want to match are next to each other. Once created, students can match picture to picture and see what fits together. Here are some ideas:
Letter Sounds (Try using the Soundfinder)
Beginning Letter Sounds: cat / car, mouse / man, door / dog
Ending Letter Sounds: snail / shell, man / fin, fish / mustache
Articuation skills
Rhymes
cat / hat, dog / frog, tree / bee
Opposites
near / far, tall / short, up / down, in / out, loud / quiet, stop / go, big / little, high / low, write / erase
Go Togethers
shoe / sock, candles / cake, pen / paper, fork / spoon
What's Missing?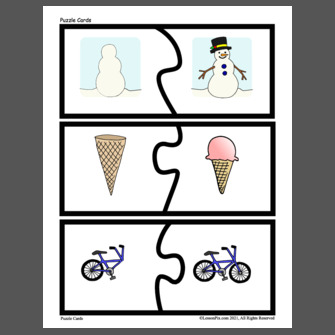 Categories
Category and Picture: Food / apple, Clothes / shirt, Toys / ball, Pets / cat
Community Helpers: Fireman / hose, Construction worker / tools, Chef / pan
Related Pictures and Students figure out the category: cat / dog (both are pets), pretzel / popcorn (both are snacks), cap / baseball (both are in baseball)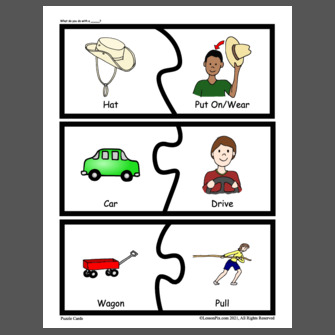 Story Vocabulary
Books and Characters
Setting and Characters
Book: Animals from "Is Your Mama a Llama" by Deborah Guarino and Steven Kellogg
Story: We're Going on A Bear Hunt" by Michael Rosen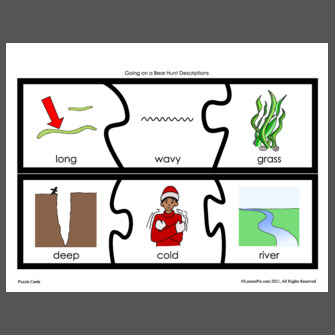 Contractions
Use text as symbols to match words that go together to make a contraction.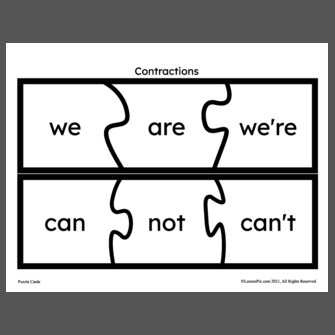 Homophones
Match the pair of homophones. These are from the story, "Bear Says Thanks" by Karma Wilson.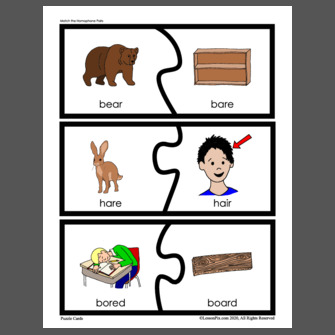 Spelling
Build spelling words with the train puzzle.
Like all LessonPix materials, you can also use picture puzzle cards with your own photos. Here are some ideas using pictures you upload from your computer or smartphone.
Use students photos - they find their partner by matching puzzle pieces for a cooperative learning activity.
Literature - match photo of books with picture of the main character
Match student photo to pictures of their lunchbox / backpack, or other belonging.
Match familiar face of school staff to picture of where they work.
Use pictures from the Great American Teach-in - match person to the job they do.
There are so many creative ways you can use this activity in a classroom, homeschooling, or therapy setting.
Here is are 2 Free Sample of Puzzle Picture Cards: Pirate and Alphabet. Have fun learning together!