Picture and Words Template
"Picture and Word" cards can be used at home, in therapy, and throughout a classroom in multiple activities and learning centers. They are beautiful large picture cards that you can customize to meet your needs.
There are a few styles:
Large Portrait: 4 per page on portrait sheet of paper
Large Landscape: 3 per page on landscape sheet of paper
Small Portrait: 16 per page on portrait sheet of paper
Small Landscape: 8 per page on landscape sheet of paper
XLarge Landscape: 1 per page on landscape paper - great for opening in PowerPoint
Here are just a few ideas.
Labeling the classroom: Use Picture and Word cards to label items around the classroom. You can use your own photos of classroom materials by uploading pictures on "Your LessonPix" page if needed. Labeling creates a print-rich environment that links objects with pictures and with words, and giving meaning to print.
Visual Schedule: Print and Cut out cards to use as a classroom visual scheudle. Laminate. Add magnets on back or use in a pocket chart to show the schedule of the day. Arrange and review daily to communicate what will happen. Later recall events of the day looking at the daily schedule.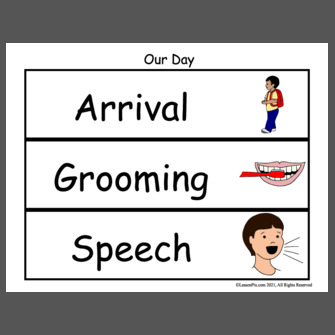 Story Characters: Offer the picture and word cards prior to a story in teaching about characters. "Today we are going to read a story about a girl and three bears". Or, after a story is read aloud, display picture cards which include the story characters. Ask the students to identify who the main characters in the story are.
Behavior Expectations: Use Pictures and Words Cards for rules or behavior expectations.
Fill in the Blank: Replace a letter or group of letters with an underscore. ( _ )
Wh Questions: Use to teach question language skills.
Word Wall: These large cards are great for display on a word wall. Word walls may focus on vocabulary and/or sight words.


Class Stories: Display preselected picture and word cards for students to incorporate in a class story. For example place girl, boy, some animals, and food. As the class write a story together on large chart paper, children may be called to offer "what happens next" in the story. The cards may offer visual support for ideas the story such as "There was a girl who met a turtle. The turtle asked the girl, 'do you have any apples?'...."

Artic / Phonics Scavenger Hunt: Create groups of pictures that correspond with a unit of study or targeted phonemes. Hide the pictures around a designated area and have the students hunt for the picture cards. When they find the picture, they can share what they found with the group.


Language Master: If you have a Language Master machine, you may print and attach the picture and word cards to blank Language Master cards.
What is a Language Master Machine? A Language Master Machine is a recorder /player that has cards which slide through the machine. These cards have a strip that has a prerecorded and/or allows the teacher /therapist to record their voice. When the card is put through the machine, the audio is played. Many Special Education teachers and Speech Pathologist use a Language Master to reinforce learning concepts.

Vocabulary Development: Create Picture and Word Cards to teach a vocabulary word(s) of the week. There are Level 1 words which are more concrete and Level 2 words which are more abstract or have multiple meanings. Some early childhood classrooms select one or two words for a week to practice, find, and use. To differentiate instruction, the teacher may select one level 1 and one level 2 word per week to focus on. For example, when talking about feelings at the beginning of the year, a level 1 word may be "mad" and a level 2 word may be "bursting" (burst a balloon, bursting through a door, bursting with anger, bursting with excitement).


Word Hunt: Give each student a Picture and Word Card. Have them hunt through specific books for the matching word.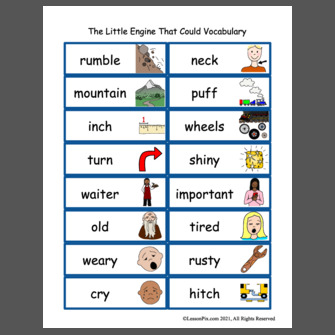 What's Missing?: Place 4-5 Picture and Word cards out for the students to see. Collect them and pull one card out. (Make sure the children don't see it!) Place the remaining cards out on display and have students guess which Picture and Word card is missing.
Most of all.... HAVE FUN!!!
Free Sample of Picture and Words Cards with 3-D Shapes