Fortune Tellers
Fortune Tellers, called Cootie Catchers, are a children's game in the form of an origami paper fortune teller. The teller holds the cootie catcher in their fingers and asks a partner questions.
Custom Designs
Fortune Tellers can be custom made at LessonPix using specific pictures and numbers. Here are some ideas:
Use theme ideas such as holidays, thematic units, or vocabulary.
Use pictures that target specific sounds such as /r/ or final /k/.
Use curriculum concepts such as math terms, science vocab, or geography.
Benefits
There are many beneits in using fortune tellers:
Promotes social interactions with clear rules and expectations, turn taking, and dialogue.
Uses fine motor manipulation skills to move.
Requires spatial and manipulaton skills to fold/create.
Integrates communication and/or curriculum skills in a fun, silly game
Free Samples:
Here is a basic simple Fortune Teller game: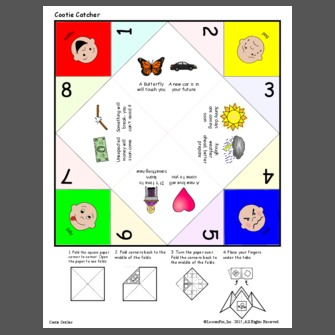 Here is a St. Patrick's Themed Fortune Teller. Rather than spelling the words, you can move with the syllables.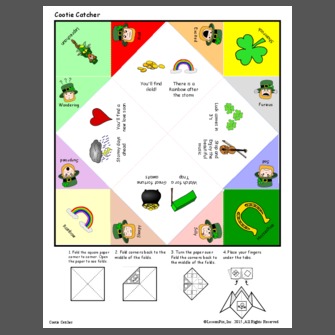 How to Play
On the outside of the cootie catcher are 4 squares. The partner chooses one of the 4. The teller moves the cootie catcher back and forth spelling the letters of their choice. (They can also move according to the syllables or a number.) The partner then chooses from a picture or number on the inside. The teller moves again in the same way. Repeat this a second time. Finally the partner chooses their last selection, and the teller lifts the flap to reveal their fortune.
How to Make One:
You will need to cut out the square template from your printout. Follow these directions to make your fortune teller:
Enjoy!