Monthly Calendar
Create a custom monthly schedule with our monthly calendar. This can be customized for an individual's schedule with after-school sports activities or therapies. Open in PowerPoint for even more customization.
LessonPix offers a few styles: portrait, landscape, large numerals, and even one with a space on top to decorate.
Tips and Tricks
Here are are few tips to help in creating more customized calendar.
1. Grid Layout: Use the Grid layout to move the pictures where you need. The Grid layout allows you to move pictures around for truly customizing where the pictures will go.
2. Blank Calendar: I you do not need any symbols in your calendar, start with an empty tray. Then choose the month and style you need.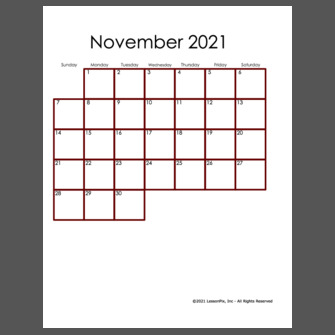 3. Change the Language: You can change the days of the week to say whatever you need. Don't for get to use the translate tool to quickly change the language of your symbols.
4. Using Blanks: Search for a "blank" symbol. These empty cells work well as placeholders or to add background color a date. Learn more in this article and video.
The blanks hold color as well as a space. It's hard to see, but very helpful. Don't forget to remove the word, "blank"!
5. Use Photos: easily upload photos to use within your calendar. This is great for adding individual birthdays or upcoming trips to favorite places (Disney!). Learn more here.
6. PowerPoint Download: Open in PowerPoint for further customization. This will make it easier to write in multi-lined text and further customize. Save as pdf to e-mail to familes.
Visuals are powerful! Have fun creating.