Tickets Template
LessonPix offers tickets templates to generate various styles of tickets customized for individual needs. Check out these samples to use with literacy activities, behavior systems and more!
All Aboard Literacy Fun!
Create tickets to use in retelling or expanding beloved stories.
In the Story, "The Pigeon Will Ride The Roller Coaster" by Mo Willems, the pigeon has a ticket to ride and waits in line with anticipation. Print these tickets on colored cardstock. Students can set up chairs, pay with their ticket and "ride" the roller coaster. Put on a roller coaster video ( like this: https://www.youtube.com/watch?v=kQxA9mxg54w) and pretend to ride.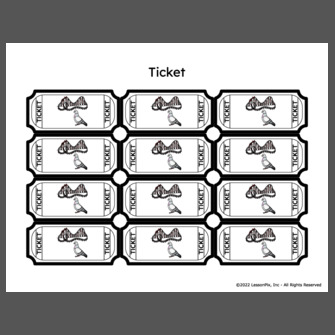 In the story, "The Polar Express" by Chris Van Allsburg, a boy rides the train to the north pole and receives the first gift of Christmas. For this read-aloud, distribute ticktes prior to the story, The students can eat cookies and drink hot cocoa and have their ticket punched during the read-aloud. What a fun holiday experience.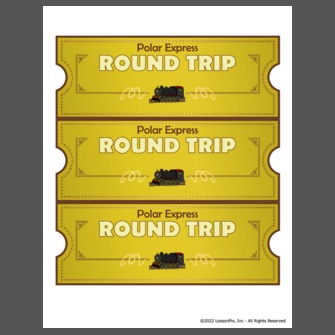 Other stories to use tickets include: "Pete the Cat's Train Trip" by James Dean, "If You Take A Mouse To The Movies" by Laura Numeroff, and Charlie and Chocolate Factory by Rohald Dahl.
Behavior Awards
Use tickets as part of a positive reinforcement system. Students can collect tickets and exchange them for prizes. Create custom tickets that correspond with a school mascot or interest area. Choose background colors OR Print on colored paper.
Here are more examples of classroom behavior tickets:
Use tickets for positive rewards and prizes for potty training. Use a child's interest theme on their ticket.
Scratch-Off Tickets
Add scratch off stickers (from Amazon here) to make reinforcement "lotto tickets". Amazon sells roll of silver, gold, and iradescent scratch-off stickers. (The iradescent do not scratch well- recommend the silver or gold)
LessonoPix has added several tickets that work with the round one-inch stickers. Here are some examples:
Amazon also sells rectangular shaped scratch-off stickers. You can use these stickers on any template in addition to the tickets.
Let's Go To The Movies!
Students can receive tickets to a movie day as a community building activity or a reward. Customize your own movie tickets to distribute. Print in color or on colored cardstock.
The Show Must Go On!
Students can put on their own production of a show and sell or distribute tickets.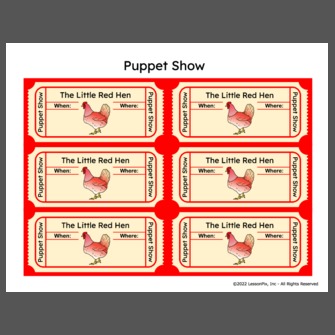 Raffle Tickets
Provide raffle tickets for a drawing at open house or during a holiday celebration. Customize to your theme.
Make learning fun by adding those small details to engage and motivate. Tickets are a great way for students to collect and participate.
Have fun learning and playing together!