5 To-Do's For Distance Learning Back to School
It's that time of year! In kicking off a successful year, teachers and therapists invest time in planning a learning environment with respect, relationships, and rules. This year persents new challenges with distance learning. Here are some specific things we can do as educators and therapists to start the year in a virtual learning space.
1.
Simplicity is key! Imagine your student walking into your classroom on day one. It should be clearly labeled, easy to navigate, and inviting. An overly cluttered room is confusing and students won't know where to begin. Same rules apply with the virtual classroom.
Prioritize a home base. This is the place (ie: Google Classroom, Schoology, MS Teams, or Canvas) where the most current information lives.
While all of the flashy new tools and elaborate bitmoji classrooms are tempting, simplicity and familiarity are most important. Lessons need clear and concise instructions with only one or two resources as to not overwhelm.
Invest time in the beginning not just to undersand the tools you need for distance learning, but also how to teach the tools to the students. Make time to teach the families, as they are likely your first line of tech support.
Here are some activities to help teach the tools:
Make a "notebook" for weekly work in Powerpoint or Google Slides.
Share screen in Zoom to allow notations and turn taking.
Ctreate task cards to go over specific links and online skills.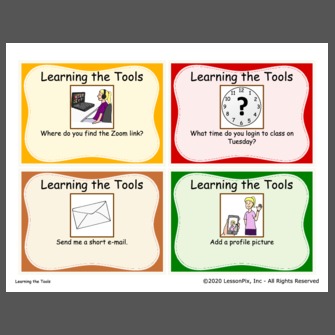 2.
6 hours in school looks quite different than 6 hours of online school. How will your students show mastery? Adjust rules and routines to reflect expectations. You may need only 10 - 30 minute lecture / lessons via video (depending on age). Therefore, you can expect your students to attend for the live video time. Be clear when assignments are due and how work is submitted.
3.
A new way to teach... a new way to learn. Students who once thrived in a classroom may now have difficulty with self-motivation or lack of human connection. It is so easy to get distracted or lost down a rabbit hole of endless information! And Zoom fatigue is real.
Invest time in teaching study strategies for different learners. Create schedules, graphic organizers, and checklists. Offer strategies for families as well.
4.
Communication is a foundational compenent to a successful classroom - no matter the format. Just like the start of in-person school, consider how you will communicate with your students and their families: Newletters, e-mails, phone calls, etc.
Distance learning presents additional challenges. Think of how many times you interact with families in car line or field trips. Consider those small, (exceptionally important) conversations with your students as you wait in line or between classes. We learn students' interests, family members, strengths, and insecurities. It is these precious moments where we build rapport and trust. These moments allow our students to feel safe to question and comment and open up in discussions and writing. And we learn individuals nonverbal cues of confusion, sensory needs, and aha! moments.
You may create materials for specific students or to elicit discussions where students can share their preferences. Make schedule of personal phone calls or Zoom time. Drop off a goodie bag to their home or mail a postcard or letter. Your students will have only one kindergarten, one first grade, one second grade.... let's make it special.
5.
Building Class Community is the preparation of inital lessons that lay the foundation for your relationship as a teacher - student or therapist - student. By planning specific activities to build community, students get to know their teach and fellow classmates. This promotes social-emotional well-being and friendships.
Choose a fun theme. Crayon theme teaches imagination and diversity with Harold and the Purple Crayon and Crayon Box that Talked. An Ocean theme with Rainbowfish teaches social skills and friendship. You can create various materials with your chosen theme for increased engagement and fun.

Consider your specific students or clients. You may choose to develop interest inventories, sensory-diet plan, or a preference hierarchy to help plan activities.

For small and large group settings, plan activities that incorporate social opportunities. For example, make name tags, "Getting-to-know-you Bingo", I Have Who Has, "Go Fish" playing cards with student photos, Scavenger Hunt checklist, etc.

Plan for virtual Meet and Greet with families.

Make an "All about Me" Zoom session where students can share 3 items that tell about who they are.

Make a class Google Slide Show and ask each student to decorate their slide.

Ask a question of the day and have students move an avatar to answer (Do you like dogs or cats?, are you tall or short?, Do you like tomatoes yes or no?)
When you begin the new school year by investing time in these five, you build a solid foundation for learning. Your students will understand what is expected such as how to login or where to find assignments. Throughout the year, you will need to revisit each of these and grow with your students. These five "To-Do's" will set the tone for a successful year.
#gen ed, #general education, #early childhood, #general ed, #kindergarten, #first grade, #special education, #special ed, #remote learning, #distance learning, #online learning