Weekly Tracking Chart
This material consists of a grid with the days of the week along the top and 1 to 8 pictures down the side. This works well for behavior charts, checklists, and tracking data.
Behavior:
This weekly tracking works well as a behavior report to parents, behavior modification system, or behavior data collection form. I select pictures of the priority events of our day or target times of day to focus on behavior. For example, if a student has difficulty with unstructured times such as PE, Recess, and Lunch, those may be the only three items I choose to start.
Once the target times or places are selected, I can then mark when the student shows appropriate behavior. It can be marked with a pen, colored markers, stickers, stamps, or bingo markers.
If this chart is used as a behavior modification plan, I can develop an agreement with the student to earn a reward. For example, I may say 3 stamps in a day earns a reward, or 10 stamps in a week earns the treasure box.
Organization:
This material is a great for keeping track of classroom information. For example, I may need to track which days which students go to which centers.
I may use thisform to track which students use the computer or go to the library on specific days.
I can list therapies like OT, PT, and SLP on the side and fill in students' names and times they attend these therapies.
A daycare can write simple lessonplans for times of the day to post in the room.
A parent may list jobs and ask their family to write in chores they are responsible for and when. (Take out trash on Tuesday and Fridays)
This is another great idea from one of our users. Thank You!! Keep the suggestions coming - as we work to develop a great resource.
Here is a Free Sample of a morning routine.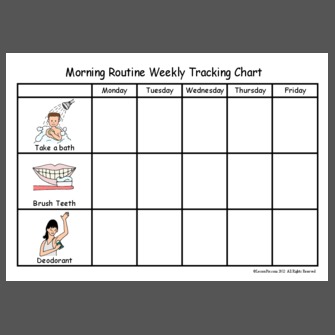 Create this yourself now!
1: Drag some pictures to the Tray
2: Click "Create Materials"
3: Choose "Weekly Tracking Chart" and follow the wizard!