LessonPix Templates: Simple and Powerful
(This article is currently being written.)
LessonPix is a powerful resource where members create custom materials online for activities, visuals, and communication. The low price can't be beat, and we intentionally keep the price affordable for families and individual teachers and therapists by keeping it simple to use. Just 1. choose your images (content) and 2. choose your template.... easy peasy.
Templates are divided into categories:
Check out this list of templates and their styles.
Visuals
Picture cards are the most versatile. With many options, members can choose what size, how many per page, layout, background colors, borders, fonts, etc.
This layout shows picture with the word next to it. Great for word walls, pocket charts, and labels.
Visual schedules help plan time and clarify expectations. There are many styles of picture schedules to choose from basic to checklist, to dinosaur.
This template fits inside plastic name tage sleeves. Great for beginning of the year, flield trips, and role playing story characters.
This templates usually lists items to show a continuum.
Simple templates lets you choose two (first / then) or three pictures (first / then / last).
This template lets you put together books with multi-lines. It comes in 3 sizes: full page, half page, and quater page.
You can also choose from different styles. Plain vertical, plain horizontal, blue, dots, lines, owl, primary lined, and two up.
Do - Do Not shows a symbol of preferred behavior and a picture with a no or not on top. There are 2 types of "no" symbols.
This template shows the idea of what a person wants and then a picture of them asking. It comes in 2 styles and showing 1 or 2 per page.
10 Certificates
LessonPix provides many styles of certificates.
11 Chart Table
Chart table lays out images in a grid with headers and 2 to 7 columns.
12 Circle Cards
These picture cards show in a circle shape. You can choose specific size, fit all on one page, or table layout (3x5)
Contingency Maps are a behavioral intervention strategy that show a series of consequences based on an initial choice (if this, then that and that...). There are a few styles to choose
14 Daily Report
This form template allows space to hand write notes for a project or report home. It allows 1-10 block areas.
15 Door Hanger
Hang visuals on doorknobs so others will know expectations or information before they enter.
16. Flashcards
Make flashcards to practice curriculum content or make a game.
17. Greeting Cards
Create greeting cards in full page, half page folded, or quarter page folded styles.
18 Hall Pass
Create passes with information about time and place.
This template shows a framed reward with steps or choices.
A large picture shows with smaller pictures underneath that can be used with or glued on the large picture.
This 2 in 1 template provides a book and picture cards to use within the book. Great for matching in a story.
Create a custom monthly calendar with symbols on specific days.
Simple visual with a picture maximum size in porttrait and landscape.
Simple visual showing conversation of 2 kids and up to 3 symbols to represent the topics.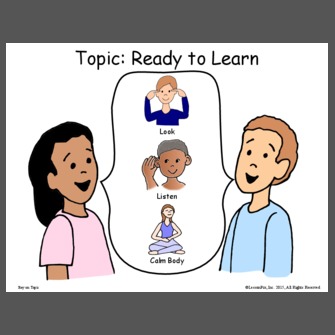 These small visuals work fit on a ring for lanyards or quick reference visuals.
26 Tally Cards
This template offers the symbol with 1-8 boxes underneath to tally. Great for tracking behavior or practicing articulation words.
27 Task Cards
Place tasks or questions on small cards for individual practice or group activities. This template comes in several styles.
28 Token Boards
Students can earn tokens and fill a board. This template includes small cards to cut out and use.
Fold paper into a triangle shaped sign- great for desktop visuals.
This material consists of a grid with the days of the week along the top and 1 to 8 pictures down the side - great for behavior charts, checklists, and tracking data.
31 When I Am
This versatile template is similar to a first-then choice board. It shows a "first" that by default say, "When I am...". The second part "then" says "I can...". The second part shows up to 9 different pictures. The text can be changed to anything you choose for more options.
These wristbands have 1-10 pictures, with or without text. There are 2 styles - folded for a thicker band or just simple paper strips. You can make 5 identical wristabands or 5 different ones. These are great for visual schedules, sensory strategies, articualtion practice words, feelings, or story sequencing.
LessonPix has a template that fits perfectly on index cards, ready-to-use! No cutting needed. Here some things to know in making your Magic index Cards.
Just use 4x6 or 5x8 index cards and adjust your printer settings.
There are two styles: make box or print to the whole card card.
Add color background and select font styles.
Print and use, just as picture cards, but with no cutting.Great for fashcards, memory, literacy activities, and more!
Communication Devices
Mid-tech AAC devices use overlays to create voiced buttons for communication. LessonPix has great tools to create overlays for your needs. We also have Communication Boards and Eye-Gaze Frames for low-tech AAC.
35 AbleNet Buttons & Switches
36 AbleNet SuperTalker
37 AbleNet QuickTalker
38 Adaptivation Devices
39 AMDi Tech Talk
40 Cheap Talk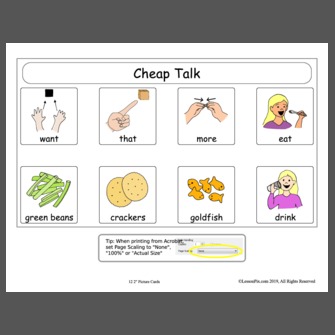 41 Communication Builder
42 Eye Gaze Frame
43 Logan ProxTalker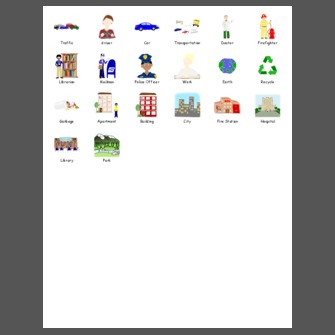 44 GoTalk Overlays
Fine Motor & Writing
Coloring sheets is a simple template that can be used in a variety of classroom activities. Select from porttrait or landscape and with or without primary lines to develop language and fine motor skills.
46 Lacing Cards
Lacing cards, or sewing cards, are a simple activity that develops both fine motor and visual perceptual skills. Lacing cards can be used as a morning table activity, in a center, for small group lessons, or within a task box.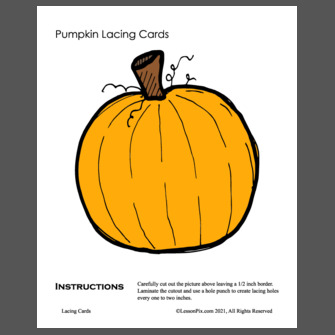 The Cutting Lines template is a simple template for cutting or tracing a line to a picture. Students can trace or cut the lines to practice fine motor skills or speech. There are many options as to the type of line paths: straight, wavy, zigzag, mixed, turn, vertical, waves, long path, and long zigzag. Lines styles include a dotted line, thick line, rainbow line, road, and a train track.
Great for cutting and tracing practice, "Cutting Links" Template provide 2 pictures connected by a line. Lines come in two types, dotted and thick, and various styles: straight, angled, curved, wavy, zigzag, and mixed.
The Cutting Shapes template is a simple template where pictures are placed inside simple shapes. Each shape is made of dotted lines to indicate where to cut or trace. Users can select 1 to 4 shapes per page. There are four shapes to choose: circle, square, triangle, or pentagon. You can also choose "mixed", a combination of the different shapes.
The "Drawing Pages" Template provides a drawing space or work space with up to 10 symbols underneath. The symbols allow for text or no text, color backgrounds, box color, and various fonts. There are three styles of drawing pages: "Draw and Pics", "Draw Cut & Glue", and "Draw and Write".
Postcards are a great way to send a quick note to someone. The postcard template allows one picture and space for a note and address. Students may draw a picture on the back or glue to a 4 x 6 photo. This template prints two 4 x 6 posts on a letter-size page or you can print on a 4 x 6 index card. You may also choose a postcard to Santa style.
Letter templates provide a letter format with a writing area, primary lines, lines, and dear Santa.
52 Word Writing
The Word Writing template is a simple page for writing and spelling. It provides up to 12 pictures with a primary line underneath each picture. Great for phonics, spelling words, and writing practice.
Writing and Drawing pages can be created to have lines and/or box for a drawing area. Images can be placed on the writing page to prompt a writer, indicate a topic, or decorate for the holidays / themes.
Learning Games
54 Bingo Games
Bingo is a fun game for all ages to enjoy. Teachers and therapists frequently use bingo cards in their practice to teach concepts, vocabulary, and speech development. Make 3x3, 4x4, or 5x5 custom cards.
Playing cards are a fun way to teach learning concepts or for getting to know you activities. With LessonPix, you can create a custom deck of cards using pictures that you select on different color backgrounds. There are several styles of Playing Cards: Say N Play, Basic, Circular, Smile, and Large Tile.
56 Dominoes
Dominos is a fun and entertaining game of matching pictures, letters, numbers, or sets.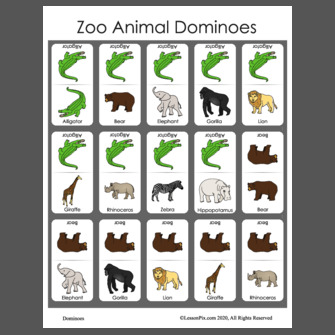 57 Game Spinner
The spinner template prints a circle with pictures and an arrow to cut and place on top. The spinner has 2 options: Dynamic and Classic. The dynamic will make a spinner given any number of pictures. Classic was the original design with 2-6 slices.
58 Game Board
The game board templates provide a variety of choices to place pictures into a game board format. There are several styles of game boards: simple basic, a path, candy themed, smilie theme, ladder and slides, caterpillar, snake, winter, and more.
Customize popular fun games to teach individualized learning objectives. LessonPix has easy to make templates that fit into Cariboo, Headbandz, and Guess Who.
Artic Trials template is a themed template that shows and repeats symbols with 10, 25, 50, and 100 symbols per page. Commonly used in data collection and assessment, this material works well for students to mark a number of trials such as saying articulation words, performing task repetitons, or self-monitoring behaviors. The fun themes can help motivate young learners or correspond to thematic units.
The Bingo Dauber template creates themed mats that show your symbols within circles. Use items on the circles such as bingo dauber, snacks, or playdough during targeted activities and informal assessments. This template provides spaces for 5, 10, 15, or 20 symbols.
These paper dice are easy to create and great for many fun activities. Just selelct the pictures for the dice. Each dice holds 6 pictures. Once you create and print the material, simlly cut it out, fold, and attach with tape or glue.
63 Cut and Paste Matching
Kids can cut out symbols on his worksheet and glue to match the pictures.
The Dial template has up to 10 pictures on a circle, and includes a cover sheet to mask all but one picture. Use a brad fastener to connect the circle of pictures to the cover sheet.
Dice Rolling Game template provides a grid of pictures with a picture of a die above each column. Roll the die and do or say each item in the corresponding column.
Dots and Boxes is a fun 2 player game. Take tuns drawing a line between an two dots. Lines may be horizontal or vertical, no diagonals. When you mark the 4th side of a box, color or mark the box. Try to close more boxes than your opponent to win! Use vocabulary or artic words for fun practice as you close each box.
Find the match template is a simple worksheet template where students draw a line to match items in one column to items in another column. You may choose 3 to 10 pictures per column.
This template has a large themed picture with smaller pictures hidden within it. The hidden pictures are listed on the right side of the page.
Fortune Tellers, also called Cootie Catchers, are a children's game in the form of an origami paper fortune teller. The teller holds the cootie catcher in their fingers and asks a partner questions.
Four Connect (or Four-in-a-Row) is a fun game where two people take turns placing chips on the circles and say the words while playing. Print or use with online tools for learning fun!
"I Have Who Has" is a fun "round robin" game used to teach vocabulary, concepts, and early reading. It can be adapted in many ways and for all ages.
Make fun mazes using target vocabulary for rewards and fun activities. There are several styles of mazes from very simple to moderate levels.
The puzzle picture cards has two pictures that match together in a puzzle connection. When selecting pictures into the tray (or organizing the order in the wizard), make sure that the pictures you want to match are next to each other. Once created, students can match picture to picture and see what fits together.
Tic Tac Toe is an easy-to-play game that teaches turn taking, planning, joint attention, spatial awareness, and more. By adding pictures in this simple game, students can practice saying the words as they mark over the picture.
75 Traditional Playing Cards
Create your own deck of cards with symbols or photos. This templates creates suits of hearts, spades, diamonds and clubs.
Treasure Map can be used to create a map of a sequence to follow. This materials allows 2 to 8 pictures to sequence. You can choose a parchment paper style or plain background (to save ink).
These wristbands have one picture with wrapped text. Great for notes to families, bible verses, inspirational sayings, or strategies.
Early Literacy
The "Beginning/Middle/End" splits the symbol into 2 - 5 equal-sized vertical slices.
79 Bookmarks
Bookmarks can be created with visual supports to help young readers. Pictures on a bookmark can provide Reading strategies cues, Specific Learning activities, Questions to think about, Retelling / summarizing, and Important ideas woth noting.
80 Circulative Narrative
Circular narratives place pictures in a circle around a center picture. Great for retelling circular narratives that start at the beginning again.
81 Clothespin Literacy Cards
This template provides 4 cards per page. Each card contains a large picture and a place to mark an "answer" under the large picture. Customize to match pictures to pictures, pictures to words, words to pictures, or circles with 1-4 numerals for counting syllables.
Election Ballots are a great tool for teaching about elections and good citizenship.
Main Idea Mats are a template with one large picture in the middle and smaller pictures around the large one. Great for using as playdough or letter mats.
Menus and Lists are a material with a list of pictures from one to ten pictures. There are a few themes to choose from such as diner, cupcake, and polk-a-dot.
Multiple Choice Cards are cards that have one big picture and three smaller pictures. You can customize these cards to assess target skills.
Picture Strips Templates show rows of pictures with 2-8 pictures per row. Each row has a gray background to separate the strips. This simple template separates these rows of pictures for sentence strips, pattern strips, math equations, spelling and more.
Poem Pages templates allow for a column of pictures with wrapped text next to each picture- great for short poems for young children. If you select "no text", lines are added next to each picture for students to use as a poem worksheet.
This powerful template allows for one question or statement with wrapped text and one, two, or three choice answers. You may print a choice of one or two cards per page. Add color backgrounds for visual discrimincation.
Semantic Maps are a visual way to organize information. The large concept is placed in the middle and surrounded by details or related items.
The "Sorting Pictures" template provides 1 to 8 boxes as place holders for categories. 10 picture cards sit along the bottom of the page to be cut out and used in sorting.
Stick Puppets can be used to teach a variety of literacy skills. And, they make a great addition to enhance any literacy experience.
Themed Mats make learning fun and motivating. Just place your choice of small symbols on a themed picture such as Pumpkin, Mitten, or Spider Web. Great to use with favorite stories or holidays. Choose from several themes: Apple Tree, Butterfly, Christmas Tree, Fall Tree, Mitt, Mitten, Nest, Placemat, Pumpkin, Shell, Stocking, Valentine, and Web. Each mat comes in Black and white or color version. Use themed mats to teach vocabulary, articulation, story comprehension, social skills, etc.
Themed Pairs Template holds 6 pictures per page on top of images that go together. Templates include two different pictures such as a fish and fishbowl as well as two halves of a picture like wings of a butterfly. Use these cards for matching same or corresponding items.
Themed Picture Cards Templates make 6 picture cards on a theme. These simple and fun visuals are great for bulletin board, holiday activities, and units of study.
LessonPix offers tickets templates to generate various styles of tickets customized for individual needs. Check out these samples to use with literacy activities, behavior systems and more!
Design your own Trading Cards based on interests or learning objectives to trade with peers and/or develop your own game.Trading cards may be customized to create games or collectables similar to Pokemon cards, Magic the Gathering Cards, or Baseball Cards. This template provides 8 cards per page in several styles. You can write longer wrapped text (similar to a book).
Early Math & Science
Pattern Strips allow you to use your selected pictures in a pattern. Choose from A-B, A-B-B, A-A-B-B, and A-B-C patterns.
LessonPix allows users to create sorting mats with boxes containing pictures and/or words to help students sort small objects, picture cards, or word cards into categories. You may create sorting mats with 1 to 6 boxes on each page for sorting.
LessonPix allows users to create graphing pages with your choice of pictures and words for various graphing lessons.
LessonPix offers three types of Number Cards to teach early math skills. These cards can be used in many ways to teach numerals and one-to-one correspondence.
Teachers or parents who use a classroom wall calendar with young children can create calendar cards with the date and a picture in a pattern.
This material consists of basic number cards that hold a set of pictures. Below the pictures are a choice of three numerals. Students can select the matching numeral to the set using clothespins, bingo markers, or markers. There are three pages: sets 1-4, 5-8, and 9-12.
103 Math Playing Cards
These playing cards place 0-24 quantities of symbols on different playing cards and include operation cards. Great for practicing counting and simple math equations.
104 Penny Cards
Penny cards offer rows of pictures with a space to tally or count the symbols. Great for number sense and money concepts.
Print custom play money to use in dramatic play, for class reward systems, alongside custom board games, or with curriculum lessons about money. The different styles all let you place a symbol or picture in the middle of the money.
Venn Diagram template works like a sorting mat to categorize items in one group, or another, or both. The Venn Diagram template allows 2 or 3 pictures to label defined circles. Once the categories are defined, students may use this visual to sort manipulatives, picture cards, photos, or even ideas.